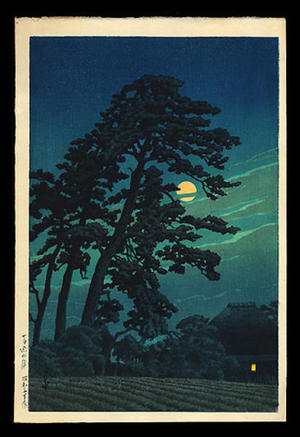 Artist: Kawase Hasui
Title: Moon At Magome — 馬込の月
Date: 1930
Details: More information...
Source: Japanese Art Open Database
Browse all 17,130 prints...
Description:
Offered for sale is a wonderful Japanese woodblock print by Kawase Hasui (1883-1957), titled Full Moon at Magome, 1930. This print is illustrated at pl. 169 of Kawase Hasui Mokuhangashu (Kawase Hasui Catalogue of Woodblock Prints), Narazaki, Muneshige, ed., (Tokyo: Kodansha & Mainichi Shinbun, 1979). This print lacks a Watanabe publisher's seal. We believe that it is a post- war printing since the paper is consistent with that used in the late 1940s/early 1950s and there were also some first edition, late 1940s designs acquired in the same collection (and to be offered shortly on our website). This print is has very good color and condition, although there is a scratch across the top left corner and a crimp in the bottom right margin corner. The image measures approximately 14 ? by 9 ? inches, plus full margins.