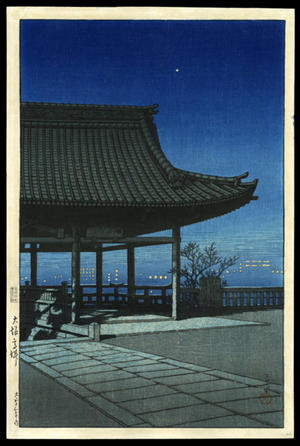 Artist: Kawase Hasui
Title: Kozu, Osaka
Date: 1924
Details: More information...
Source: Japanese Art Open Database
Browse all 17,130 prints...
Description:
Title Kozu Shrine rare: original color edition: Artist Hasui Kawase 1883-1957 Signature Hasui. Seal Artist's seal. Dated 1924. Publisher Watanabe. Medium/Technique Woodblock print. Description "Osaka, Kozu". The pale moonlight illuminates Kozu shrine, which has been deserted for the evening. But the megalopolis, Osaka, below the deck is still awake with hundreds of electric lights. Only the bright evening star can be seen on the darkening sky.