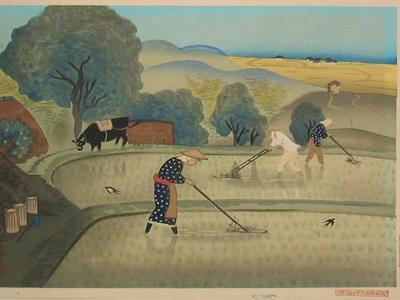 Artist: Bakufu Ohno
Title: Rice Weeding- Variant 1
Date: 1950
Details: More information...
Source: Japanese Art Open Database
Browse all 17,130 prints...
Description:
This is an original 1952 by Bakufu Ohno. Printed by Kyoto-Hanga, it also has the Shinagawa chop below Ohno's chop in the lower left corner. Still tipped to it's original windowed holder the verso has average bleedthrough with NO repairs, foxing and no age toning. Upon lifting the window of the folder, if you look closely there is a slight color fading from U V exposure. All colors are very strong and the print is in excellent conditiion. Image size is : 14 1/2 " w X 9 11/16 " h. This print is commonly titled : Rice Weeding. Image and additional bio info at : ohmigallery.com. --- go to the artist image database.