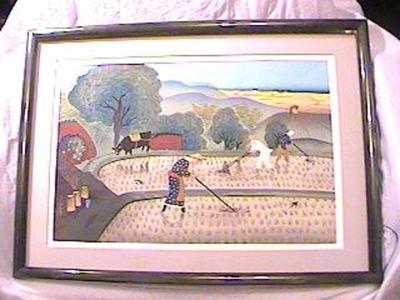 Artist: Bakufu Ohno
Title: Rice Weeding- Variant 1
Date: 1950
Details: More information...
Source: Japanese Art Open Database
Browse all 17,130 prints...
Description:
Nice piece , measures 15 1/2 inches (wide)X 10 1/2 inches (up & down) total sheet size . Looks to be farmers working the field with their ox/cow in the background . This woodblock has lots of markings , all shown in the close-ups below .The only part I can read is :: PRINTED by KYOTO-HANGA-IN 1952. this is not glued down , but a small piece of tape at the bottom and a larger piece at the top on the backside ,holding to the matting frame, for the most part this print is loose.