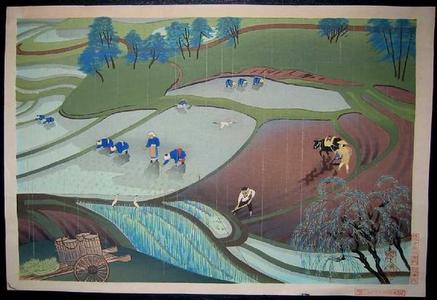 Artist: Bakufu Ohno
Title: Planting rice
Date: Not set
Details: More information...
Source: Japanese Art Open Database
Browse all 17,130 prints...
Description:
Monday, 4 July 2005 Rice Planting (Variant 2) by Ohno Bafuku Rice Planting is a wonderfully detailed glimpse of peasant agricultural life. You can tell it is not modern farming by the grass rain-gear that the person driving the water buffalo is wearing. There are tiny baby rice plants in the paddy and in the trays on the cart. Two herons are standing in a paddy of maturing rice plants, and another is flying over the centeral paddy. The fields and paddys are beautifully shaded. Rain falls in light streaks. You will note that there are no black keybock lines. Their absence gives the feel of a watercolor to the print. This watercolor feel is intensified by the delicate, freehand look of the rice plants, the elegant sweep of the willow branches, and the smudged look to the leaves of the background trees. This is one of Ohno's best landscapes. Ohno Bafuku was born in Tokyo and moved to Kansai. He was an honorary member of the Hyogo Prefecture Academy of Fine Arts, and a member of Taiheiyogakai. He is particularly noted for his kacho-e prints, but he did a number of fine landscapes as well. Artist: Ohno Bafuku, 1888-1976 Date: 1952 Publisher Kyoto-Hanga Impression: Excellent ? lightly embossed Color: Excellent ?. Nice shading Condition: very good Size : 14" x 9 3/8 " approx.