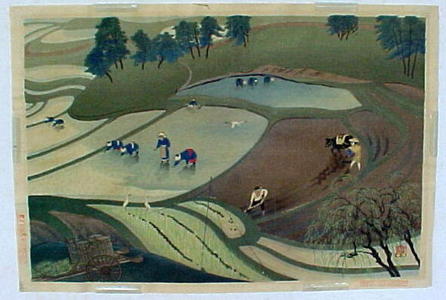 Artist: Bakufu Ohno
Title: Planting rice
Date: Not set
Details: More information...
Source: Japanese Art Open Database
Browse all 17,130 prints...
Description:
This auction is for an Original 1950 Japanese Woodblock Print by Bakufu Ono or(Ohno) (1888-1976) Biography:Moved to Kansai after the 1923 earthquake. Exhibited oil painting at Teiten in 1929. Honorary member of Hyogo prefecture academy of fine arts. Member of Taiheiyogakai. Produced many landscape and fish prints including Great Japanese Fish Picture Collection (Dai Nihon gyorui gashu), 1940, published by Kyoto Hanga-in; blocks were carved by Matsuda and Kikuda: printed by Shinagawa, Nagae, Uchida, Ono." --'Guide to Modern Japanese Prints: 1900-1975' by H. Merritt and N. Yamada. Prints by Ohno never carried title text, and as a result the woodblock print community (including both collectors as well as galleries) has often applied 'unofficial' titles to prints in a haphazard way. This print is of Rice Fields. MARKS: PRINTED BY KOYOTO-HANGA-IN1950.Sealed and signed in right corner, other marks in the left side margin. SIZE: TOTAL : 15"x 10-1/2"..IMAGE size: 14" X 9-1/2". CONDITION: the print is in excellent undamaged condition, very slight toning of paper, no tears or stains. It has not been glued down, it has been attatched to the board with plastic holders which were part of the much later framing given the print.