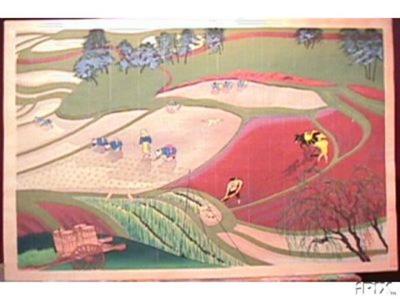 Artist: Bakufu Ohno
Title: Planting rice
Date: Not set
Details: More information...
Source: Japanese Art Open Database
Browse all 17,130 prints...
Description:
Japanese Woodblock Print. We can not determine the artist, but will post an addendum when the identity is provided by a knowledgable ebay bidder. This item is an original woodblock print measuring 9 3/8" x 14 1/8", with margins, 10 1/4" x 15". It is signed/stamped in the lower right corner. The condition is very good- no evidence of stains or matburn - never been framed - a very crisp image. It is loose - not attached to a backing. The paper is a medium thickness fiber type paper - no watermark or lines visible. We will be selling approx. 20 Japanese woodblock prints, most of which came from a single estate and were purchased in the 1950's.