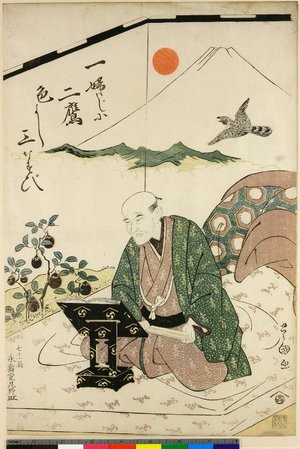 Artist: Utagawa Toyokuni I
Date: 1797-1798
Details: More information...
Source: British Museum
Browse all 9,127 prints...
Description: Colour woodblock print, oban. A portrait of the publisher Konno (Nishimuraya Yohachi I) of the Eijudo publishing house to commemorate his reaching the age of 71. It shows him seated, dressed in a kimono and 'haori' coat both decorated with the character 'kotobuki' (Longevity). He holds a fan and sits before a lacquer lectern as he practises the popular hobby of musical recitation. He is seated on a mattress with a pile of bedding directly behind him. In the background is a screen painted with a rising sun over Mr. Fuji, a hawk in flight and a bush of eggplant, the three symbols considered lucky if dreamt about in the first dream of the New Year, ('hatsuyume').