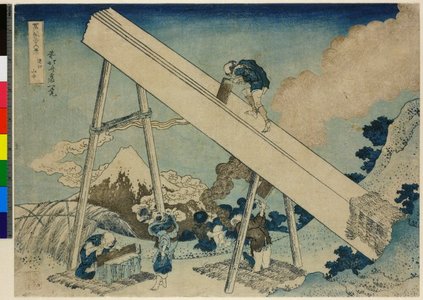 Artist: Katsushika Hokusai
Title: Totomi sanchu 遠江山中 (In the Totomi Mountains) / Fugaku sanju-rokkei 冨嶽三十六景 (Thirty-Six Views of Mt Fuji)
Date: 1830-1833
Details: More information...
Source: British Museum
Browse all 9,127 prints...
Description:
Colour woodblock oban print. Two men sawing large tree block on stand; woman carrying baby on back watching another man sawing tree trunk on ground; Mt Fuji surrounded by clouds in distance. 1 of 3 impressions. Inscribed, signed and sealed.