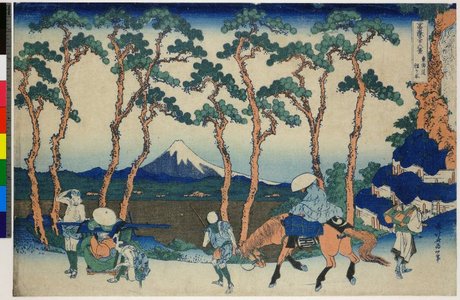 Artist: Katsushika Hokusai
Title: Tokaido Hodogaya 東海道程ヶ谷 (Hodogaya on the Tokaido Highway) / Fugaku sanju-rokkei 冨嶽三十六景 (Thirty-Six Views of Mt Fuji)
Date: 1830-1833
Details: More information...
Source: British Museum
Browse all 9,127 prints...
Description:
Colour woodblock oban print. Travellers on road lined with pine trees at Hodogaya: foot-traveller on far right with itinerant monk, deep sedge hat and bamboo flute, gazing at roadside stone image of deity carved into rock-face of hillside; palanquin bearers resting to mop brow and re-tie sandal; man leading horse pointing herding stick towards Mt Fuji in background. 1 of 2 impressions. Inscribed, signed and marked.