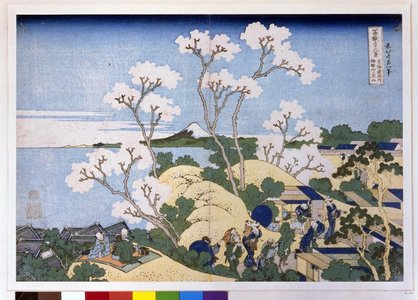 Artist: Katsushika Hokusai
Title: Tokaido Shinagawa Goten-yama no Fuji 東海道品川御殿山ノ不二 (Fuji from Goten-yama, at Shinagawa on the Tokaido Highway [Edo]) / Fugaku sanju-rokkei 冨嶽三十六景 (Thirty-Six Views of Mt Fuji)
Date: 1830-1833
Details: More information...
Source: British Museum
Browse all 9,127 prints...
Description:
Colour woodblock oban print. View of Mt Fuji across Sagami Bay, between trunks of cherry trees dotted hills at Goten-yama above Shinagawa: Samurai and ordinary townspeople with children, picnicking and cavorting under blossoms, taking refreshment at temporary tea-stalls. 1 of 2 impressions. Inscribed, signed and sealed.