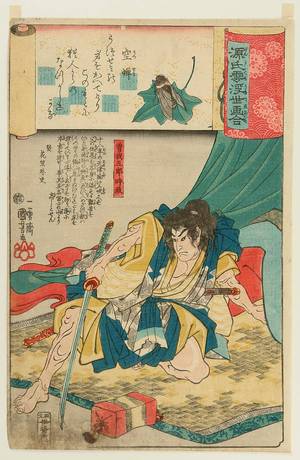 Artist: Utagawa Kuniyoshi
Title: Genji Kumo Ukiyo E Awase - Soga Goro
Date: 1843-45.
Details & Prices: Utagawa Kuniyoshi: Genji Kumo Ukiyo E Awase - Soga Goro - Artelino
Source: artelino - Japanese Prints
Browse all 24,756 prints...
Description:
"Genji Kumo Ukiyo E Awase" (Scenes of Today Compared to the Cloudy Chapters of the Tale of Genji) "Utsusemi". Soga Goro Tokimune. The story of the Soga brothers - Juro and Goro - is a popular theme in Japanese culture based on a real event in feudal Japan from 1193. It is all about revenge. The end is like that of an Italian nineteenth century opera. The chief characters are all dead - but honor was restored. And even 800 years later such stupid behavior ist still exstent in many cultures on this globe.