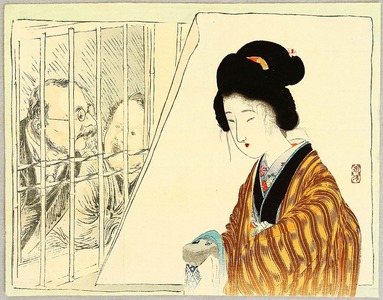 Artist: Tomioka Eisen
Title: Conversation
Date: Ca. 1900-10s.
Details & Prices: Tomioka Eisen: Conversation - Artelino
Source: artelino - Japanese Prints
Browse all 24,756 prints...
Description:
Kuchi-e from the novel "Tangled Hair". A bijin named Ofusa is holding a toiletry box and a towel in the right inset. She is coming home from a public bath. A rich man persuaded her mother that her daughter should be a mistress of him (left inset). Eisen used the western style sketchy lines and shadings for the two people inside of a latticed window.