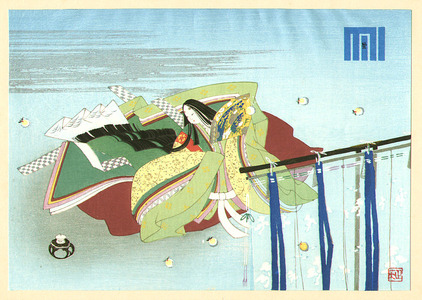 Artist: Maeda Masao
Title: Hotaru - The Tale of Genji
Date: Ca. 1950s.
Details & Prices: Maeda Masao: Hotaru - The Tale of Genji - Artelino
Source: artelino - Japanese Prints
Browse all 24,756 prints...
Description:
"Genji Monogatari: Hotaru" (The Tale of Genji: Hotaru). Chapter 25, (Fireflies). Prince Genji wanted to be the go-between for his younger brother who was in love with Lady Tamakazura. Genji released large numbers of fireflies so that his brother could see the lady. This print is still in the original folio. The chapter summary is printed in English and Japanese on a tissue overlay.