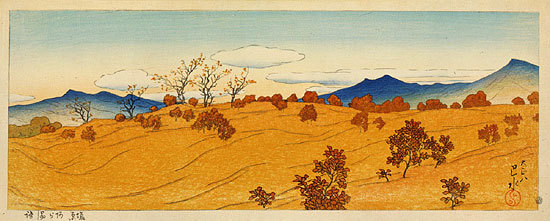 Artist: Kawase Hasui
Title: Arauji in Shiobara (Shiobara no Arauji)
Date: 1919
Details & Prices: More information...
Source: Scholten Japanese Art
Browse all 854 prints...
Description: Dated at lower right, Taisho hachi (Taisho 8 [1919]), and signed Hasui, with artist's pre-earthquake seal Hasui. Publisher's circular seal, Watanabe (Watanabe Shozaburo) at lower right. The title on the bottom margin at left, Shiobara no Arauji.