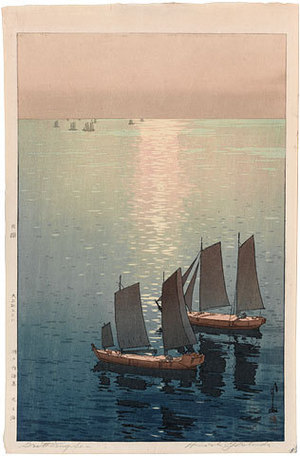 Artist: Yoshida Hiroshi
Title: The Inland Sea Series: Glittering Sea (lighter palette) (Seto uchi kaishu: Hikaru Umi)
Date: 1926
Details & Prices: More information...
Source: Scholten Japanese Art
Browse all 854 prints...
Description:
Signed in sumi ink Yoshida with artist's seal Hiroshi, and signed in penciled script, Hiroshi Yoshida, on the bottom margin. With artist's jizuri (self-printed) seal on upper left margin. The date below, Taisho jugonen saku (made in Taisho 15 [1926]), followed by the title, Seto uchi kaishu: Hikaru Umi. Penciled titled in English on the bottom margin, Grittering [sic] Sea.