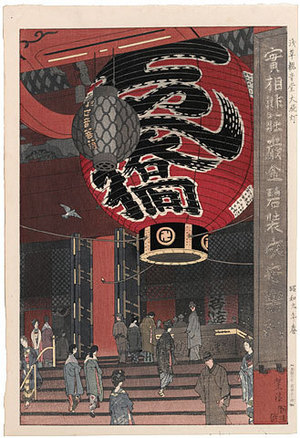 Artist: Kasamatsu Shiro
Title: Great Lantern at the Kannon Temple, Asakusa (Asakusa Sensoji Dai Chochin)
Date: 1934
Details & Prices: More information...
Source: Scholten Japanese Art
Browse all 854 prints...
Description:
Signed Shiro with artist's seal Shiro saku. The title along the upper right margin, Asakusa Sensoji dai chochin. The date on the lower right margin, Showa kyunen haru (Showa 9 [1934], spring), followed by the publisher's seal Hanken shoyu Watanabe Shozaburo (Copyright ownership Watanabe Shozaburo).