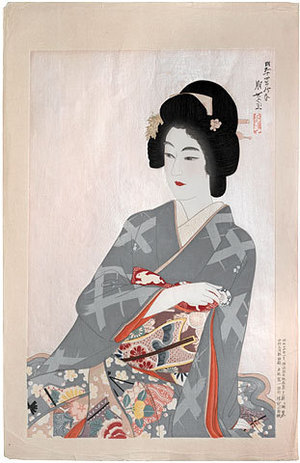 Artist: Jinbo Tomoyo
Title: Prints by Jinbo Tomoyo, 2nd Series: Fragrance (Jinbo Tomoyo Hangashu, Dai-Nishu: Bikun)
Date: 1939
Details & Prices: More information...
Source: Scholten Japanese Art
Browse all 854 prints...
Description:
Dated at upper right, Showa juyonen shin shun (Showa 14 [1939], early spring), and signed, Tomoyo ga, followed by artist's seal, possibly Tomoyo. With further publication details at lower right corner: the date, Showa juyonen ichigatsu (Showa 14, 1st month), and title, Jinbo Tomoyo hangashu dai ni shu, Bikun; followed by printer and carver, Nakamura Sanjiro insatsu (printed by Nakamura Sanjiro) and Ishizaka Kenichi chokoku (carved by Ishizaka Kenichi), and Gentei ni-hyaku mai (limited edition of 200). With series title paper slip attached to verso at upper right, Jinbo Tomoyo hanaga shu, and print title paper slip attached at lower left, Dai ni shu, Bikun.