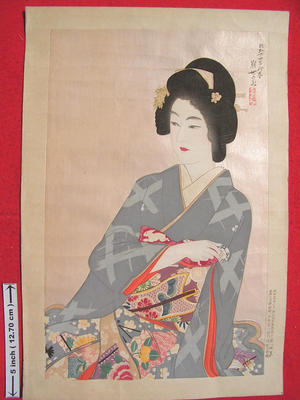 Artist: Jinbo Tomoyo
Title: Tipsy
Date: 1939
Details: More information...
Source: Japanese Art Open Database
Browse all 17,130 prints...
Description:
Thursday, 24 March 2005 1939 SHINSUI school SHIN HANGA Japanese Woodblock print Item number: 7307978960 Jinbo Tomoyo Hangashu dai 2 hen BIKUN Painter; TOMOYO JINBO Date; SHOWA14 (1939) 16.5 x 11.5 inches. O-ban size. This print is not a reprint but a genuine original woodblock print. Excellent color and impression. There are creases (as visible in the image).