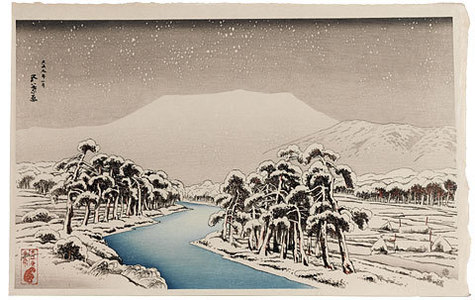 Artist: Hashiguchi Goyo
Title: Mt. Ibuki in Snow: Tarui on the Tokaido (yuki no ibukiyama)
Date: 1920
Details & Prices: More information...
Source: Scholten Japanese Art
Browse all 854 prints...
Description:
Dated and signed at upper left corner, Taisho kyunen ichigatsu, Goyo ga (Taisho 9 [1920], 1st month, by Goyo). With date seal at lower left corner Taisho kanoe saru doshi (Taisho, elder brother metal [cyclical elemental sign], and year of the monkey [zodiac sign]) and decorated with a crouching monkey. The circular seal, Watanabe, at the lower right corner. With printed red rectangular limited edition seal hand-numbered on verso, Shuzuri ichi-hyaku mai kagiri no uchi, dai ni ju kyu ban (printed in a limited edition of 100, number 29), followed by the red circular seal, Edo-e Kanshokai kaiban.