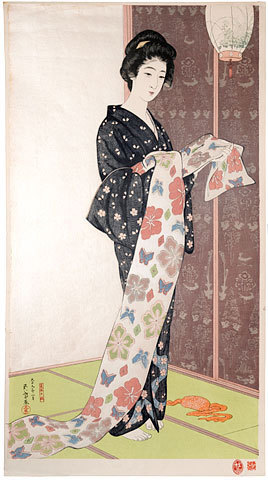 Artist: Hashiguchi Goyo
Title: Young Woman in Summer Kimono (natsu yosoi no musume)
Date: 1920
Details & Prices: More information...
Source: Scholten Japanese Art
Browse all 854 prints...
Description:
The title in the red rectangular cartouche at lower left, Natsu yosooi no musume. Dated Taisho kyunen hachigatsu (Taisho 9 [1920], 8th month) and signed, Goyo ga, with artist's red circular seal Goyo. With red oval collector's seal, Tobin, on lower right margin, beside the red square seal of the artist's family, Hashiguchi. Posthumously printed. The waitress Nakatani Tsuru stands clad in a diaphanous dark blue yukata decorated with pink cherry blossoms. Her silvery white mica obi with butterfly and flower pattern trails on the green tatami mat floor. To her left lies an orange obi makura, the small pillow used beneath the knot of an obi to give it a fuller shape. Over her left shoulder are sliding fusuma panels covered in a plum-brown fabric with a light grey bird and floral motif; the left half of the composition is embellished with creamy silver mica.