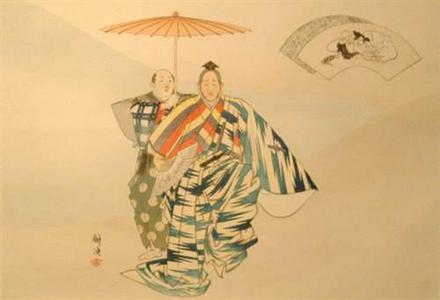 Artist: Tsukioka Kogyo
Title: Suehirogari
Date: Meiji - 1898
Details & Prices: More information...
Source: Robyn Buntin of Honolulu
Browse all 4,310 prints...
Description:
Suehirogari can be translated as An Old Umbrella for a Fan. This print is a Kyogen scene from a series entitled Nogaku Zue (Noh Plays), published by Matsuki, Heikichi. Kyōgen is a form of traditional Japanese comic theater. It developed alongside Noh, was performed along with Noh as an intermission of sorts between Noh acts, on the same Noh stage, and retains close links to Noh in the modern day; therefore, it is sometimes designated Noh-kyōgen. However, its content is not at all similar to the formal, symbolic, and solemn Noh theater; kyōgen is a comical form, and its primary goal is to make its audience laugh. Kyōgen is sometimes compared to the Italian comic form of commedia dell'arte, which developed around the same period (14th century) and likewise features stock characters. Framed in dark grey-brown silk and Japanese-style silver and black lacquer frame.