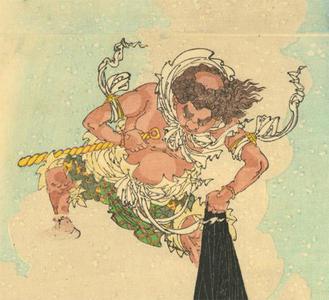 Artist: Tsukioka Yoshitoshi
Title: The Austerities of Saint Mongaku
Date: 1885
Details & Prices: More information...
Source: Robyn Buntin of Honolulu
Browse all 4,310 prints...
Description:
This print shows Fudo Myoo saving Mongaku after he leaped into Nachi Falls. Yoshitoshi uses the vertical diptyche format to create the perfect layout for the plunge of the waterfall. Shinichi Segi, Yoshitoshi the Splendid Decadent,pl.38, p.138 Framed in silk and acid-free mats with ultraviolet-filtering plexiglas.