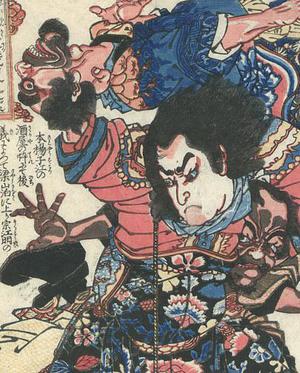 Artist: Utagawa Kuniyoshi
Title: Kassenba Oteiroku
Date: 1830
Details & Prices: More information...
Source: Robyn Buntin of Honolulu
Browse all 4,310 prints...
Description:
The story of the 108 heroes of the Suikoden goes back to an old Chinese novel about 108 honorable bandits, some kind of Robin Hood gang. At the beginning of the 19th century it became very popular in Japan, and it became one of the favorite subjects of Japanese prints. The print series by Kuniyoshi was the ignition powder for the fashion of Japanese body tattoos. Here the former innkeeper Kassenba Oteirokuin uses his hands, feet, and some ropes to retrain three opponents.