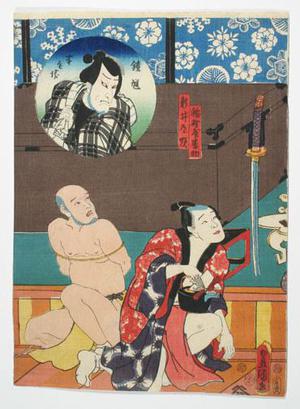 Artist: Utagawa Kunisada
Title: Kabuki Scene
Date: 1852
Details & Prices: More information...
Source: Robyn Buntin of Honolulu
Browse all 4,310 prints...
Description:
A wonderfully detailed triptych of a scene from the kabuki play Meiyo Jinsei Roku. The actors portrayed here are from left: Seki Sanjuro III (inset), Nakayama Ichizo I, Nakamura Kantaro I, Arashi Kichisaburo III, Nakamura Kamenojo I, Nakamura Kanemon I, Ichikawa Hirogoro I, Sawamura Chojuro V (inset).