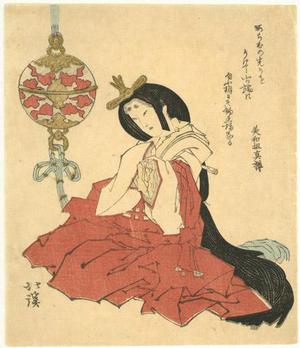 Artist: Totoya Hokkei
Title: Court Lady
Date: Meiji Copy B
Details & Prices: More information...
Source: Robyn Buntin of Honolulu
Browse all 4,310 prints...
Description:
Original surimono were often commissioned by poetry circles and privately published. Surimono represent the peak in Japanese woodblock printing techniques. Their costly production resulted in very limited editions of a handful of impressions of each design only. Most copies of surimono were published at the end of the ninetenth or the beginning of the twentieth-century. The majority of then were based on surimono in the square format that had been published in the city of Edo (modern Tokyo) in the 1810 and 1820s. The ground-breaking publication of Roger Keyes, THE ART OF THE SURIMONO, provided an effective categorization of these surimono copies. This is a Group B copy, produced for sale to foreigners and issued in sets of fifty or more. They were copied from other copies (Group A) which were based on originals.