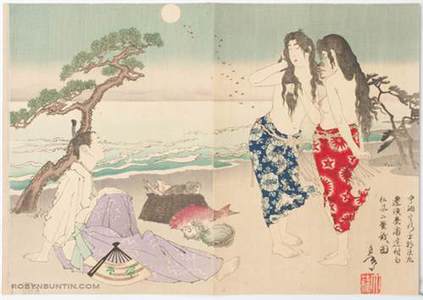 Artist: Tsukioka Yoshitoshi
Title: Imperial Coundillor Yukihira
Date: 1886
Details & Prices: More information...
Source: Robyn Buntin of Honolulu
Browse all 4,310 prints...
Description:
The full title of this diptych is Picture of Imperial Councillor Yukihira Amusing Himself with Murasame and Matsukaze on the Beach of Suma, from the series Yoshitoshi Manga (Sketches by Yoshitoshi). Yukihira was governor of four provinces, but he was banished to Suma after angering the Emperor Koko. The story of his exile and return to Kyoto after three years was the inspiration for the Noh play, Matsukaze.