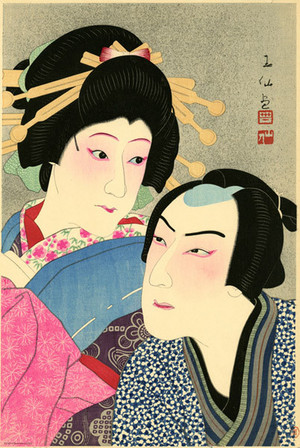 Artist: Natori Shunsen
Title: Ichikawa Shocho II and Kataoka Gado IV
Date: 1925-1929
Details & Prices: More information...
Source: Robyn Buntin of Honolulu
Browse all 4,310 prints...
Description:
This print is from the series, "A Collection of Shunsen Portraits," with Ichikawa Shocho II as Umegawa and Kataoka Gado IV as Chubei. The story of Umegawa and Chubei ends in tragedy as Chubei is executed for using money entrusted to him to help his lover Umegawa. The colors are so fresh in this print that the pink blush around the actors' eyes are clearly visible. Example in: Yamaguchi, Keizaburo, "Natori Shunsen Exhibition" catalog, #28, p.40.