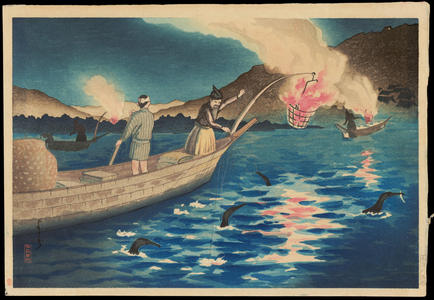 Artist: Yoshiji よしぢ
Title: Nagaragawa Cormorant Fishing - 長良川鵜飼
Date: 1920
Details & Prices: More information...
Source: Ohmi Gallery
Browse all 2,569 prints...
Description:
This is an interesting and beautifully executed scene of cormorant fishing; probably the best I have seen. What makes it interesting is that it is by an unknown artist named Yoshiji, who published via Sato Shotaro (publisher for Yoshikawa Kanpou (吉川観方), Miki Suizan (三木翠山)、Nomura Yoshimitsu (野村芳光); all well-established artists.) The left margin red seal reads 佐藤 (Sato). The red seal at lower left of image area reads 佐藤章版(published by Sato Sho). I believe Sato Sho is the same publisher as Sato Shotaro 佐藤章太郎. The right side seal is the title, 長良川鵜飼 (Nagaragawa Cormorant Fishing). The hiragana artist signature reads よしぢ (Yoshiji) but it's possible it may read よしば (Yoshiba). If you have any further information on this artist please email me. This item is from my personal collection and is not for sale.