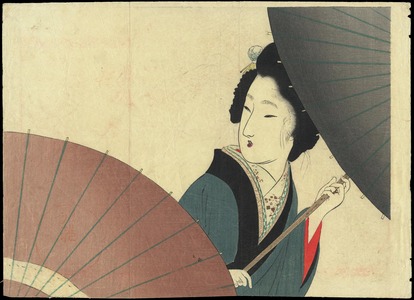 Artist: Unknown
Title: Bijin and Umbrella (1)
Date: 1900
Details & Prices: More information...
Source: Ohmi Gallery
Browse all 2,569 prints...
Description:
Probably published by Bungei Kurabu. Kuchi-e prints were foldout prints placed at the front of Japanese literary magazines in the 1890s to about 1910. This edition dates to that period. See the article "Kuchi-e - Literary Magazine Frontispieces" at Ukiyo-e Gallery for a very informative introduction these wonderful bijin-ga prints. (1) This item is either untitled or the title is unknown.