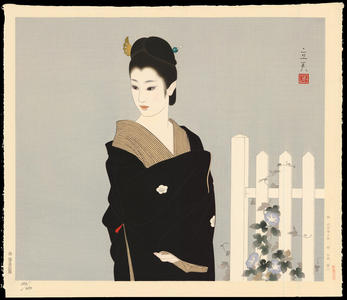 Artist: Tatsumi, Shimura
Title: Akashi-Cho - 明石町
Date: c. 1980 (this item: First edition)
Details & Prices: More information...
Source: Ohmi Gallery
Browse all 2,569 prints...
Description:
Sheet size 49.5 x 42cm. Edition 354/450. Publisher's seal in the lower left margin. Artist signature and seal at upper right. Printer and carver details at bottom of right margin. Includes original deluxe folder and canvas series album, weighing around 4kg in total. This is a set item along with item 10572.