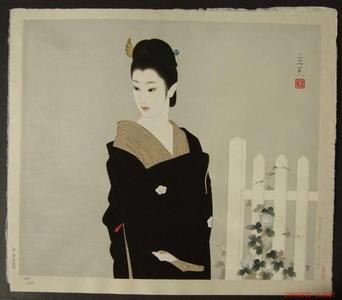 Artist: Tatsumi Shimura
Title: Akashi-cho
Date: Not set
Details: More information...
Source: Japanese Art Open Database
Browse all 17,130 prints...
Description:
Sunday, 16 December 2007 "Akashicho"(Akashi town) by Tatsumi Shimura (1907-1980) "Akashicho"(Akashi Town), most commonly known as "Garden Corner". This extremely rare woodblock by Tatsumi Shimura (1907-1980). Limited Edition print 285/450. Printed between 1977-1980. Carver; Kentaro Maeda, Printer; Ritsuzo Sato, and Publisher; Yuyudo. Size is large: paper size is 19 and 1/2 inches by 17 inches. Artist signature and personal seal located in lower right of image. Red "Tatsumi Kenin" seal in lower margin reads, "Tatsumi seal of approval". Colors are vivid and vibrant and in layers. Absolutely stunning original hand Japanese made woodblock print. Outstanding condition. Pristine except for extremely tiny fiber in paper from process of Japanese handmade Washi paper or a few pinpoint size ink drops in image which is almost impossible to see. Not noticeable to the casual observer. Rarely do we find these old prints in this nearly perfect condition. Additional pictures gladly provided upon request. There is an excellent examples of Tatsumi's work at the Tokyo National Modern Fine Art Museum. The quality, colors and exquisite nature these Japanese woodblock prints can not be fully appreciated with these inferior pictures.