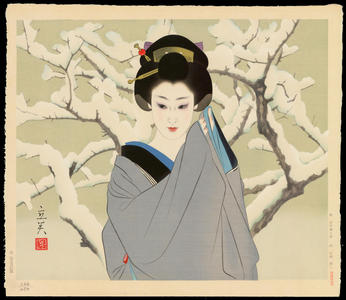 Artist: Tatsumi, Shimura
Title: Snow - 雪
Date: c. 1980 (this item: First edition)
Details & Prices: More information...
Source: Ohmi Gallery
Browse all 2,569 prints...
Description:
Sheet size 49.5 x 42cm. Edition 324/450. Publisher's seal in the lower left margin. Artist signature and seal at lower right. Printer and carver details at bottom of right margin. Includes original deluxe folder, series brochure, and series album. This is a set item along with item 11135. This item is from my personal collection and is not for sale.