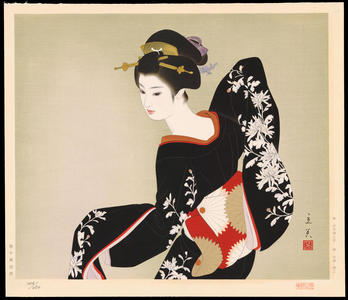 Artist: Tatsumi, Shimura
Title: Gesture - しぐさ
Date: c. 1980 (this item: First edition)
Details & Prices: More information...
Source: Ohmi Gallery
Browse all 2,569 prints...
Description:
Rarely seen in Japan and nearly impossible to find outside of Japan as Tatsumi prints are extremely rare and highly cherished here and seldom sold. Sheet size 49.5 x 42cm. Edition 306/450. Publisher's seal in the lower left margin. Artist signature and seal at lower right. Printer and carver details at bottom left of right margin. Due to the large size I will ship this print rolled in a sturdy tube (flat shipping available for an extra charge). The original frame is also available but is not included in the quoted price due to its heavy weight. It can be shipped for the extra shipping charge alone (please enquire).