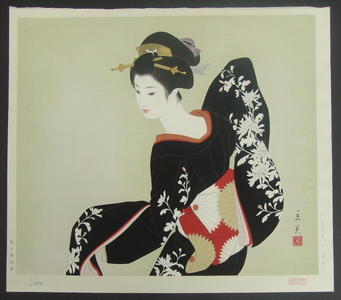 Artist: Tatsumi Shimura
Title: Dance- gesture — MAI- Shigusa
Date: Not set
Details: More information...
Source: Japanese Art Open Database
Browse all 17,130 prints...
Description:
Monday, 11 December 2006 "Shigusa"(gesture) this extremely rare woodblock by Tatsumi Shimura (1907-1980). Limited Edition Number 1 of 450. Extraordinary Special. My finest print ever. Precious in every respect. Rarely seen in Japan and nearly impossible to find outside of Japan as Tatsumi prints are extremely rare, highly cherished in Japan and seldom sold. I only know of one other this title that has ever been seen outside of Japan. Tatsumi specialized in bijin ga - prints of beautiful women. He is most famous for his series "Five Figures of Modern Beauties". This limited edition print is number 1 of 450. The title is "Shigusa"(gesture). Tatsumi say; "This picture is a scene of a Japanese dance. Most take in a figure of the woman I (Tatsumi) draws me from Japanese dance. As for the moment to a thing swing and dance is beautiful really wonderful." Carver; Kentaro Maeda (very famous carver in Japan), Printer; Ritsuzo Sato, and Publisher; Yuyudo. Red seal appaers "Seiha no In". Size is very large: paper size is 18 and 15/16 inches by 16 and 1/2 inches. Colors are fresh, vivid and vibrant. . Absolutely stunning original hand Japanese made woodblock print. This is about as perfect as they come. Only one tiny printer's ink sport can be seen above the right hand of the dancing lady. The edition number, condition and beauty speak for themselves.