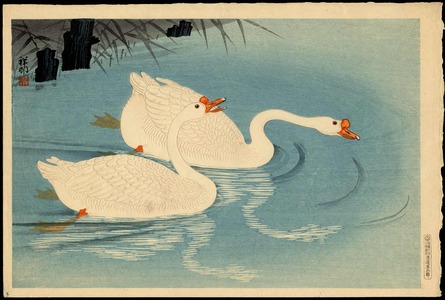 Artist: Shoson Ohara
Title: Two Swimming Geese (1)
Date: 1928
Details & Prices: More information...
Source: Ohmi Gallery
Browse all 2,569 prints...
Description:
A gorgeous kacho-e scene of two white geese swimming, by Shoson Ohara (also known as Koson). This print stands as a testament to the creative skills of the woodblock print carver and printer, who have given 3-D life to this scene by using strong kara-zuri (embossing, blind printing) to the geese and water (see images). Stunningly beautiful! This rare pre-war strike has been well preserved - it is in pristine condition except for very minor light crease at the bottom right (barely visible). "Made in Japan" seal on verso. Watanabe "D" publisher seal in the right margin. (1) This item is either untitled or the title is unknown.