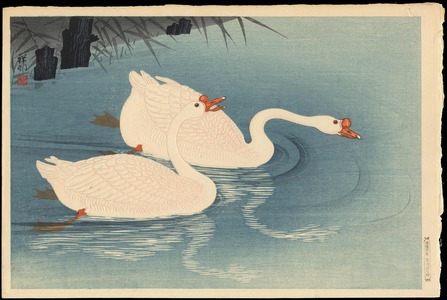 Artist: Shoson Ohara
Title: Two Swimming Geese (1)
Date: 1928
Details & Prices: More information...
Source: Ohmi Gallery
Browse all 2,569 prints...
Description:
From the reknown collection of the late Robert Muller. A gorgeous kacho-e scene of two white geese swimming, by Shoson Ohara (also known as Koson). This print stands as a testament to the creative skills of the woodblock print carver and printer, who have given 3-D life to this scene by using strong kara-zuri (embossing, blind printing) to the geese and water (see example image). Stunningly beautiful! This rare pre-war strike has been well preserved - it is in near-pristine condition. Artist signature and seal at upper left. "Made in Japan" seal on verso. Watanabe C seal in the right margin. (1) This item is either untitled or the title is unknown.