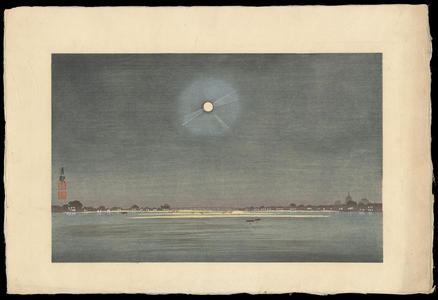 Artist: Kobayashi Kiyochika
Title: The Winter Moon - Kinryuzan Viewed from the Banks of the Sumida River - 墨堤より望む金龍山 冬の月
Date: 1915
Details & Prices: More information...
Source: Ohmi Gallery
Browse all 2,569 prints...
Description:
The blocks for this series were in preparation when Kiyochika died in 1915 and were first issued shortly thereafter. The set appears to comprise some 26 designs and is exceptionally rare. Each print bears the title and publisher's stamp verso together with the notation Kiyochika Fukei Shin-ga Hampu Kai (Society for the Distribution of Kiyochika's Landscapes). This item is from my personal collection and is not for sale.