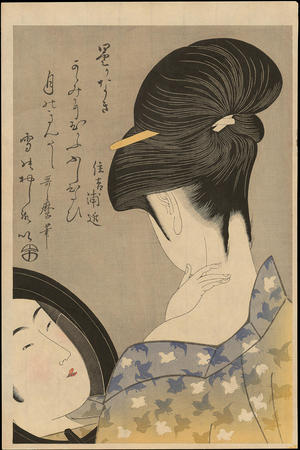 Artist: Kitagawa Utamaro
Title: Powdering the Neck - えり装い
Date: 1790
Details & Prices: More information...
Source: Ohmi Gallery
Browse all 2,569 prints...
Description:
Supervised by Takamizawa of the Takamizawa publishing house. Included with each woodblock print is a windowed folder for viewing your print. This type of print shows a woman of the pleasure quarters. The Edo period red-light districts were officially sanctioned, however, they weren't the playground for just anyone. The popular top-class geishas of the day (known as 'oiran') were depicted in this type of print. In ukiyo-e woodblock prints, this close-up portrait view of the upper body is known as an okubi-e (bust portrait).