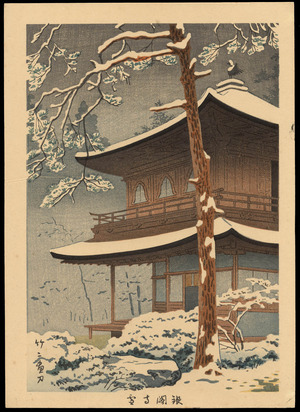 Artist: Asano Takeji
Title: Snow at Ginkakuji Temple - 銀閣寺雪
Date: 1930
Details & Prices: More information...
Source: Ohmi Gallery
Browse all 2,569 prints...
Description:
A quiet snow scene of Kyoto's famous Silver Temple (Ginkakuji). This is one of the earliest works of Takeji Asano, published prior to 1931. The carver and printer remain unknown. This print is a rare first edition, and no subsequent editions have been published because the publisher went out of business in 1931. Takeji signature in lower left of image.