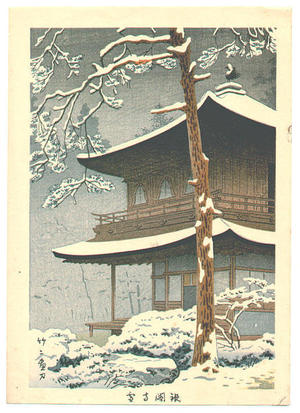 Artist: Fujishima Takeji
Title: Ginkakuji Temple in Snow — 銀閣寺雪
Date: Not set
Details: More information...
Source: Japanese Art Open Database
Browse all 17,130 prints...
Description:
This scene was originally published by the Kyoto publisher Sato Shotaro in the early 1930s, with prints carrying a read publisher seal in the margin. It would appear that the publisher Unsodo obtained the remaining stock at some time, perhaps when Sato went out of business. Unsodo stock carry no publisher seal.