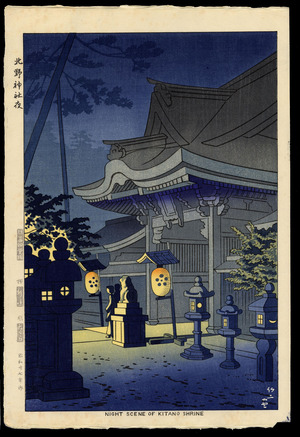 Artist: Asano Takeji
Title: Night Scene of Kitano Shrine - 北野神社夜
Date: 1952
Details & Prices: More information...
Source: Ohmi Gallery
Browse all 2,569 prints...
Description:
A very popular oban tate-e scene of the famous Kitano Shrine Buddha by Takeji Asano. This print is a rare first edition, as indicated by the printing of the date in the lower left margin. This date seal was carved off the woodblock after the first edition. Also in the left margin are Unsodo publisher's seal, Shinmi printer's seal, and Okura carver's seal. Unsodo watermark bottom left margin corner. The cut-out in the bottom left corner (known as a 'kento cut') is due to the printing process.