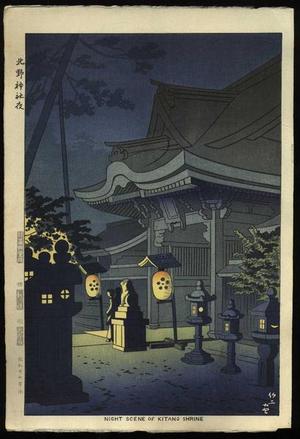 Artist: Fujishima Takeji
Title: Night Scene of Kitano Shrine
Date: 1952
Details: More information...
Source: Japanese Art Open Database
Browse all 17,130 prints...
Description:
Night Scene at Kitano Shrine by Takeji Asano. Original woodblock print dated Showa 27 (1952). Oban size measures 16.1 x 10.8 inches. Very good condition. Title, Unsodo publisher's seal, Shinmi printer's seal, Okura carver's seal, date and Gei watermark in left margin. English title in bottom margin. Takeji characters in lower right margin. Strong ink bleed through on fine washi. One of Takeji's best evening scenes.