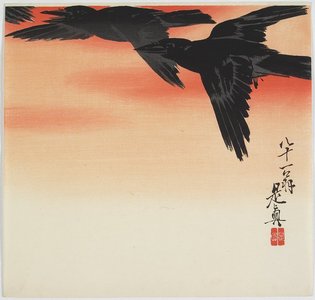 Artist: Shibata Zeshin
Title: Crows Flying at Sunset
Date: c. 1888
Details: More information...
Source: Minneapolis Institute of Arts
Browse all 2,121 prints...
Description:
As the artist's signature in the lower right indicates, Zeshin designed this print when he was eighty-one years old. Having begun his artistic career as an apprentice in a lacquerer's atelier at the age of eleven, Zeshin had a long and productive career up until his death at age 86. This print reveals that Zeshin's sense of artistry remained vital even in his later years.