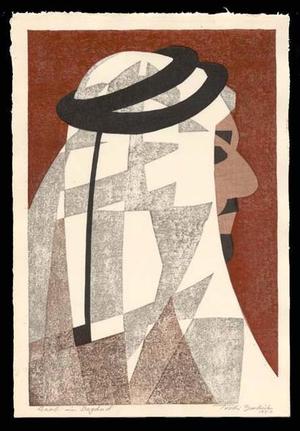 Artist: Yoshida Toshi
Title: Arab in Bagdad
Date: 1954
Details: More information...
Source: Japanese Art Open Database
Browse all 17,130 prints...
Description:
Offered for sale is a beautiful, pencil signed (and thus lifetime impression), Japanese woodblock print by Toshi Yoshida (1911-1995), titled Arab in Bagdad, 1954. In 1952, influenced by the work then being produced by his brother Hodaka, Toshi began producing abstract prints, while at the same time continuing the shin hanga school landscape tradition began by his father, Hiroshi Yoshida. His first series of abstract prints were produced in 1952. In 1954, he did a series of abstract portraits; building on the themes he had been developing. This print is in pristine condition, with intense colors. It is from a private collection, and has never been framed. The image measures approximately 14 ? x 9 ? inches, plus full margins. Recently, many posthumous Toshi Yoshida designs have been offered for sale. This print is guaranteed to be a PENCIL SIGNED, lifetime edition, and therefore more valuable!!