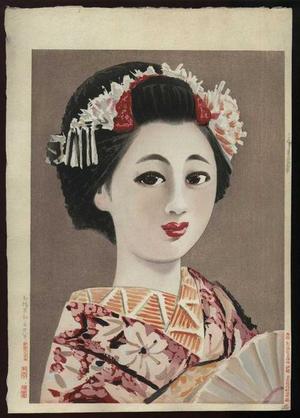 Artist: Kusaka Kenji
Title: Unknown, bijin
Date: Not set
Details: More information...
Source: Japanese Art Open Database
Browse all 17,130 prints...
Description:
Bijin by Kenji Yajima. Original woodblock print. 15.1 x 10.6 inches. Fine condition. Pencil numbered in left margin in Japanese 28 out of a production of 100. Also in left margin is a Gihachishirabesumi seal, Yashita carver's seal and Sakura printer's seal. Artist's name and Nihonhanga Kenkyusho publisher's information in right margin. Good ink bleedthrough. Rare and beautiful bijin ga.