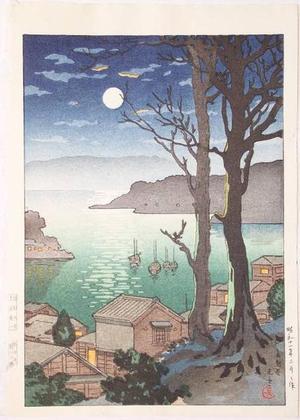 Artist: Tsuchiya Koitsu
Title: Maizuru Harbor at Night
Date: 1936
Details: More information...
Source: Japanese Art Open Database
Browse all 17,130 prints...
Description:
Koitsu-Maizuru Harbor at Night- Eiichi_Harada_Seki.jpg is: Japanese Woodblock by Koitsu 'Port Maizuru' (1936) Colorful moonlite harbor scene is by Koitsu Tsuchiya (1870-1949) titled simply "Port Maizuru" (in Japanese "Maizuru Ko") and margin dated as "Showa 11," originally published in 1936. Published by "Doi Eiichi," this print bears the double-offset box bearing the "carver/printer" names of Harada/Seki, making this a mid-edition printed off of the original blocks. Circa 1981 to 1995 (not new.) To learn more about the dating of prints by Doi Publisher, follow this link to read an article about "The Doi Publishing House." The workmanship in both carving and printing is very good, typical of the prints done by Seki. Skillfully executed changes of color shading ("bokashi") seen virtually throughout the print, and nicely carved details. Life-like reflection seen in the water. Shows no signs of any prior mounting and is in pristine condition?no signs of any toning or foxing. Clean backside?fresh, bright colors. The image measures 7 x 10 inches.