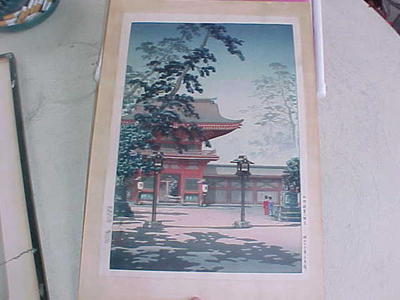 Artist: Tsuchiya Koitsu
Title: Hakozaki Hachimangu Temple, Kyushu
Date: 1938
Details: More information...
Source: Japanese Art Open Database
Browse all 17,130 prints...
Description:
Japanese woodblock print by Koitsu Tsuchiya (1870-1949) entitled "Hakozaki Hachiman Shrine" ,("Kyushu Hakozaki Hachimangu"). Later Hama impression posthumously printed from Koitsu's original blocks. These later editions are identical to the earlier editions except for the publisher's seal. Beautiful condition, with excellent color and registration, and strong ink bleed through. Oban size image measures15 1/4" x 10 1/4", plus full margins.Reference can be found in CHIGASAKI Museum's Koitsu Exhibition Catalouge pl# 34,p34.This print comes framed with a thin paper matting.I removed the print from the frame to show the seals and signature.