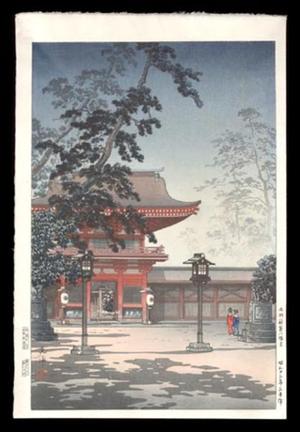 Artist: Tsuchiya Koitsu
Title: Hakozaki Hachimangu Temple, Kyushu
Date: 1938
Details: More information...
Source: Japanese Art Open Database
Browse all 17,130 prints...
Description:
Koitsu-Hakozaki Hachimangu Temple- Hangaten_Harada_Yokoi.jpg is: Offered for sale is a Japanese woodblock print by Tsuchiya Koitsu (1870-1949), titled Hakozaki Hachimangu Temple, 1939. This design is an early Doi publication, as evidenced by the Harada/Yokoi carver/printer seals (Yokoi was only active as a printer through 1945). This print is slightly faded and on the reverse it is lightly toned and there are tape stains across the entire perimeter of the margins, which are still a bit sticky, but do not affect the face of the print. It is not backed and there are no repairs. The image measures 15 ? by 10 ? inches, plus full margins.