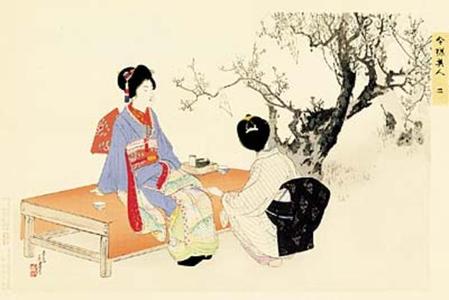 Artist: Mizuno Toshikata
Title: 2- Two ladies drinking their tea under a blooming plum tree
Date: 1899
Details: More information...
Source: Japanese Art Open Database
Browse all 17,130 prints...
Description:
Saturday, 14 May 2005 Two ladies drinking their tea under a blooming plum tree. Series: Imayo Bijin (Modern beauties of the present). No 2. Signature: Oju Toshikata-e. Seal: Sho, Setsu. Publisher: Akiyama Buemon. Date: Meiji 31 (1898). Size: Oban, 25,0 x 37,2 cm. Excellent impression, colours and condition. Printed with silver.